If you've been injured in a cycling accident, it can be difficult to know where to start. The first step should always be getting medical attention. After that, it's important to get legal help so you know what to do. It's also helpful to understand some of your rights so you know what to expect and what you're entitled to.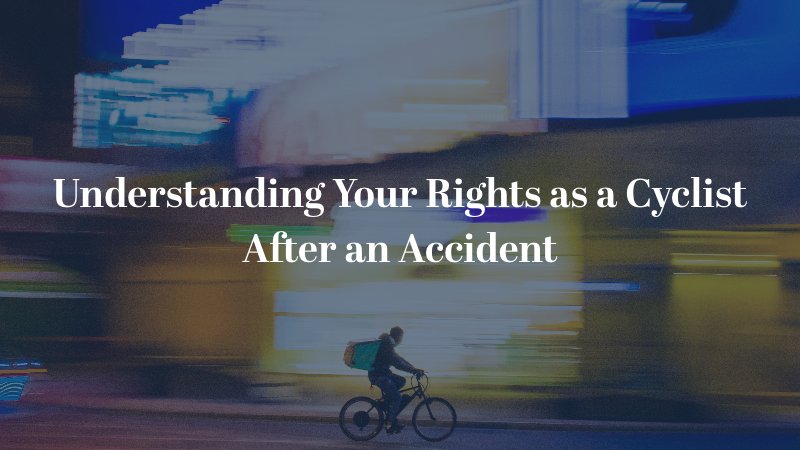 You Have The Same Rights as Drivers
All cyclists on the road have the same rights and obligations as motor vehicle drivers. 
Cyclists can ride in any lane, and they are not required to use a bike lane even if one is available. It's against the law for drivers to pass a bicycle with insufficient clearance, and the severity of the offense can result in a fine or penalty points.
Cyclists must obey all traffic signals and signage just like drivers must do. Cyclists also have the responsibility to exercise care towards others on the road and take appropriate measures to prevent harm.
You Don't Have to Give a Recorded Statement to Insurance Adjusters
When filing an insurance claim, you do not have to give a recorded statement. Insurance adjusters will often try to pressure you into giving one but this isn't necessary. 
Even if it is your own insurance company asking for the recorded statement, they aren't exactly on your side and are just trying to limit their company's liability in case of a lawsuit. It's best practice not to provide one so that there isn't any conflicting information between what is said in the statement and what is proven during court proceedings.
You Have The Right to File a Personal Injury Claim
If you're injured in a bicycle accident your policy doesn't, you'll need to take legal action and file a personal injury claim against the responsible party. A personal injury claim aims to receive compensation from the liable party to cover expenses such as medical bills, lost wages, and the pain and suffering caused by the incident.
To do this, you will have to prove that the other party was negligent.
There is a Time Limit for Filing a Claim
Personal injury claims must be filed within a specific timeframe. In D.C., "Except as otherwise specifically provided by law, actions for the following purposes may not be brought after the expiration of the period specified below from the time the right to maintain the action accrues: for the recovery of damages for an injury to real or personal property— 3 years." 
If you wait too long, you could lose your right to recover any damages. However, there are sometimes exceptions to this timeline, so it's important to always speak with a bicycle accident lawyer in Washington, D.C. as soon as possible.
Cyclists are always more vulnerable than motor vehicle drivers because of their lack of protection, like seatbelts, airbags, and the frame of a car. Regardless of what your rights are, it's important to always remain vigilant and be careful when on your bike. Still, it's important to understand your rights as a cyclist if you want proper compensation for any damages incurred because of an accident that someone else causes. If you need legal help, contact us to schedule a free consultation.