Losing a loved one to the negligent actions of another can leave you grief-stricken, shocked, and uncertain about the future.  You and your family are often faced with numerous financial, practical, and legal challenges.  The wrongful death attorneys at Lightfoot Law, PLLC, understand the complex issues you are facing and want to help you seek justice for your family and your loved one.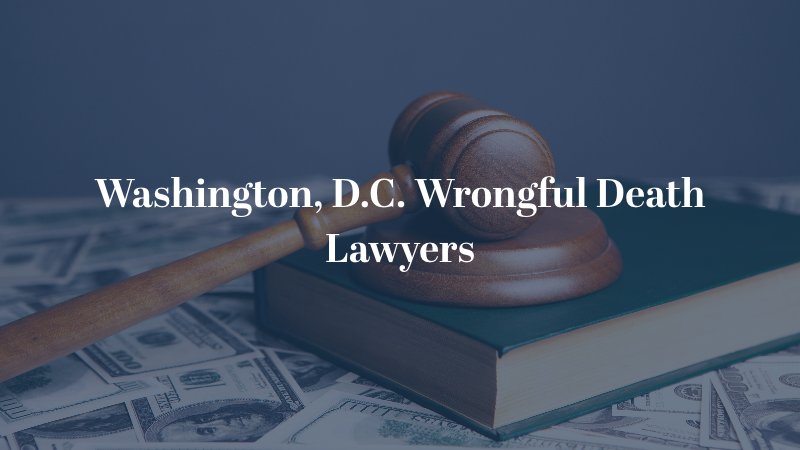 At Lightfoot Law, PLLC, we know no amount of money can bring back your loved one; however, the law protects the rights of and compensates victims who suffer a loss due to another person's negligence.  It is through this compensation that reckless individuals and organizations are held responsible when they cause a person's untimely death.
When you retain the wrongful death attorneys at Lightfoot Law, PLLC, for your counsel, you hire attorneys who are:
Zealous advocates for our clients who have lost loved ones in tragic accidents or due to the malicious actions of another;
Dedicated to getting families in the Washington area and throughout the District of Columbia the maximum compensation possible to help their family move forward;
Skilled and experienced in all facets of wrongful death law in Washington, D.C.; and
Determined to hold those responsible for wrongful deaths accountable for their actions.
Contact Lightfoot Law, PLLC, today if you are dealing with the devastation of a loved one's wrongful death.  Our wrongful death attorneys will seek the justice and compensation you deserve.  Call our Washington office at (831) 708-0298 or contact us online to schedule a free consultation.
A Washington, D.C., Wrongful Death Attorney Can Help You
Wrongful death cases are complex and often confusing for someone unfamiliar with the personal injury or wrongful death claims process.  Insurance companies are not on your side and have teams of adjusters and attorneys battling against you every step of the claims process.  Any number of obstacles may arise, causing your claim to be delayed or denied by the insurance company.
The first most critical step in pursuing a wrongful death claim is hiring a qualified and experienced Washington, D.C., wrongful death attorney like ours at Lightfoot Law, PLLC.  Our wrongful death attorneys have the skills and resources to do the following and more on your behalf:
Research your loved one's death;
Determine the identity of the party at fault;
Locate any necessary documentation and supporting evidence;
Assess the value of your case;
Interview witnesses;
Gather your loved one's medical records and bills; and
Work with needed experts to strengthen your claim.
While most wrongful death claims settle outside of court, the attorneys at Lightfoot Law, PLLC, will fiercely advocate for you in trial whenever necessary.  Contact us in Washington, D.C., today to discuss the facts of your case and how to begin the wrongful death claims process.
The sooner we start work on your case, the faster we can bring you and your family a resolution and help to close this chapter of your lives.
What is a Wrongful Death?
Wrongful death, as defined by Washington, D.C., statute is a death caused by the wrongful act, neglect, or default of another person or corporation.  A wrongful death lawsuit is a civil lawsuit meant to compensate those family members left behind after a fatal accident through money damages.
A representative of a deceased person's estate might have a valid basis for a wrongful death lawsuit if the death was a direct result of another person's or organization's negligent or intentional actions. Wrongful death lawsuits may relate to any personal injury case including, but not limited to:
Defective products;
Lack of proper security;
Mesothelioma;
Birth injuries;
Nursing home abuse and neglect;
Traumatic brain injuries;
Motorcycle accidents;
Assault;
Murder; and
Aviation accidents.
A wrongful death lawsuit is not a criminal case.  A criminal case involving death is a homicide case.  The state brings a homicide case against the perpetrator of the crime to punish them with jail, prison, probation, or another state-sanctioned method.  The only means of recovery in a civil wrongful death case is money damages.
What is a Survival Action?
A wrongful death lawsuit is separate from a survival action.  A survival action bases its recovery on the suffering of the deceased person while a wrongful death lawsuit focuses on the grief and financial losses of the family.  In a survival action, the deceased's estate recovers damages for the pain and suffering of the deceased as well as compensation for any medical bills and lost earnings.
The money in a survival action does not go directly to the surviving family members.  Instead, any compensation is paid to the deceased person's estate then flows through to the family after any outstanding estate expenses or debts are paid.
Who Can File a Wrongful Death Claim in Washington, D.C.?
In a wrongful death case or a survival action, the deceased can no longer bring a claim for money damages on his or her own behalf.  Therefore, someone with legal standing, or the ability to file a lawsuit in court, must step in to file the wrongful death claim or survival action for them.  In Washington, D.C., the personal representative or executor of the deceased person's estate must be the one to file either claim.
If the person died without an estate plan or will naming a personal representative, or if the named personal representative cannot serve, the court may appoint one.  A surviving spouse or domestic partner, or children of the deceased may be appointed as personal representative.
It is possible for extended relatives to file a wrongful death lawsuit or survival action when no close relatives exist.  Either way, the personal representative generally has two years from the date of the victim's death to file a wrongful death claim.
Proving a Wrongful Death Claim in Washington, D.C.
To prove a wrongful death claim and receive compensation for their losses, a family's attorney must show that the negligent party or wrongdoer was strictly liable for their loved one's death or that negligence played a significant role in their death.  This requires proving the following four elements:
The defendant's actions caused the victim's death, either in part or in entirety;
Negligence or liability on the part of the defendant can be shown to cause the death;
The deceased is survived by dependents, a spouse, children, or beneficiaries; and
The death has caused financial damages to survivors or beneficiaries.
Evidence That Can Help Prove a Wrongful Death Claim
To succeed in a wrongful death claim, you must prove that the other person was responsible for the death. The following are some of the most important pieces of evidence that can help you in your wrongful death claim:
Medical Records and Reports 
The medical records of the deceased are critical pieces of evidence in any wrongful death claim. These records will provide details about the cause and manner of death. In some cases, an autopsy report might be needed as well. 
Eyewitness Accounts 
If there were any witnesses present at the time of your loved one's death, their accounts can be immensely helpful when filing a wrongful death claim. Eyewitnesses can provide firsthand accounts of what happened leading up to your loved one's passing and help establish liability on behalf of another party. Their testimony will help you identify which parties are responsible for providing compensation for your loss.  
Police Reports 
Police reports are essential documents when it comes to proving a wrongful death claim because they typically contain information about who was present at the scene and what role each person played in causing or preventing an accident from happening. Police reports also include details about any arrests made at the scene and anything else they deem to be relevant.
Compensation for a Wrongful Death Accident in Washington, D.C.
Once a wrongful death claim is proven, money damages are awarded to the deceased person's survivors to compensate them for their loved one's death.  In Washington D.C., these damages are primarily based on the financial losses suffered by the deceased person's family and are paid to the surviving spouse or domestic partner and other close relatives.
Typically wrongful death damages include:
Funeral and burial expenses;
Accident-related medical bills;
Lost wages and benefits the deceased person would likely have earned had he or she lived; and
The loss of care, education, training, advice, and other services the deceased would have provided to his or her surviving family members.
Don't Speak With Insurance Companies After Losing a Loved One
If you've recently suffered the wrongful death of someone close to you, it's important to know that you have rights. In particular, you don't have to speak to any insurance companies, and you shouldn't without an experienced lawyer by your side. Here's why:
Insurance Companies are Not on Your Side 
When someone close to you has been wrongfully killed due to another person's negligence, you may receive a call from an insurance company representative. However, these representatives are not there to help; they have one goal – they want to save their employer money. 
Their job is to get as much information out of you as possible while minimizing their own liability. Therefore, they may try to twist your words or make up excuses for why they cannot pay what they may owe you and your family. Don't fall prey to this tactic. Stand your ground and speak with a lawyer instead. 
Your Lawyer Will Negotiate With The Defendant
A qualified attorney who specializes in wrongful death cases will fight for fair compensation on your behalf. With years of experience in taking on insurance companies and winning favorable settlements on behalf of their clients, lawyers understand how hard it can be for bereaved families and will do whatever it takes within the bounds of the law to ensure all parties receive appropriate compensation for their losses. 
Understanding the Length of Time for a Wrongful Death Claim 
It is important to understand what goes into settling a wrongful death claim and how long it takes so that you can prepare yourself and your family for the legal process.
Negotiations and Settlement Agreements 
Once the claim has been filed, negotiations between parties will begin in an attempt to reach an out-of-court settlement agreement. The length of these negotiations depends on many factors, including how complex the case is and how much evidence there is in support of your claim.
During this period, both parties may agree to participate in mediation or arbitration in order to resolve their dispute more quickly. If an agreement cannot be reached through these means, then the case may proceed to trial in court. 
Number of Parties Involved 
The number of parties involved in a wrongful death suit plays a significant role in how long it takes for a settlement to be reached. If there are multiple defendants who must all be addressed in the lawsuit, this will add extra time to the proceedings. 
Each defendant must evaluate their own individual liability and they may have different attorneys representing them, which means that negotiations take longer than they would if there were only one party involved. In addition, if any of the defendants choose to contest your claim or dispute any facts or evidence presented by your attorney, this could also add additional time as well. 
Complexity of Case 
The complexity of your case will also affect how long it takes for your case to settle. If there are complex medical issues that need to be addressed in order to determine fault or responsibility for wrongful death, this can delay settlement talks significantly. 
Additionally, if there are multiple witnesses or expert witnesses who need to be consulted before an agreement can be reached, such as doctors or accident reconstructionists, this too can add additional layers of complexity that could prolong settlement talks even further.
Court Proceedings 
If your case does end up going all the way through litigation, it can be a lengthy process, depending on scheduling delays and whether appeals are necessary at the conclusion of the case. It is not uncommon for cases like these to last one or two years from start to finish before they are finally resolved by either settlement agreement or a court ruling after a trial. 
The Benefits Of Filing A Washington, D.C. Wrongful Death Claim 
Filing a wrongful death claim can help provide closure and allow you and your family members the opportunity to seek justice after losing someone you love. It can be helpful to know that the defendant is taking responsibility for their actions.
In addition, successful claims will result in monetary compensation that can help cover medical bills related to your loved one's accident or illness as well as funeral costs and even lost wages from their passing if they were employed at the time of their death. Ultimately, filing this type of claim can help alleviate some of your financial burden while allowing you time to grieve without worrying about mounting expenses or debt related to your loss.
Washington, D.C. Statute of Limitations for Wrongful Death Claims
In order to receive compensation in a wrongful death claim, the claim must be filed within a certain period of time, set by a law called a statute of limitations.  In Washington, D.C., the statute of limitations for a wrongful death claim or survival action is two years from the date of the person's death.  If the case is not filed before this deadline, recovery may be barred altogether.
The statute of limitations for a survival action may be more complicated and best discussed with an experienced wrongful death attorney for clarification on a case by case basis.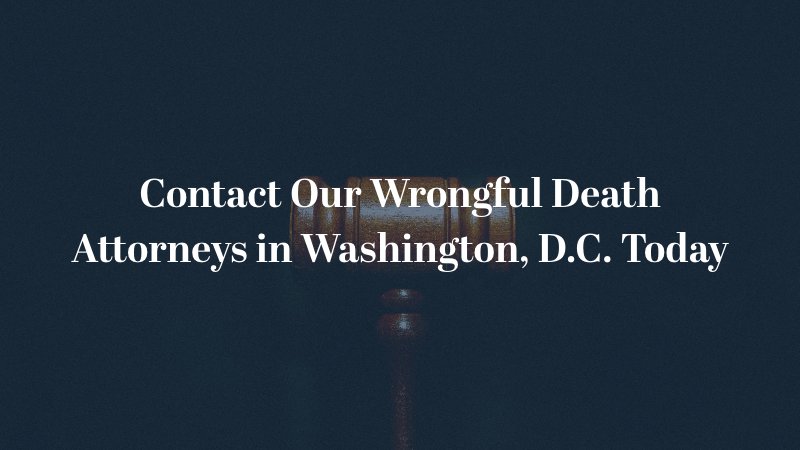 Contact an Experienced Washington, D.C. Wrongful Death Attorney Today
Prompt action is critical to obtaining fair damages after the death of a family member.  At Lightfoot Law, PLLC, we are well-versed in the courtroom tactics the opposition uses to attempt to limit their liability, and we counter their arguments with carefully planned responses designed to protect your rights. We work hard to demonstrate that you deserve to receive compensation for the loss of your loved one.
If you have questions about your ability to file a wrongful death claim or survival action, payment of medical bills and funeral costs, or any other related matters, call the attorneys at Lightfoot Law, PLLC.  At Lightfoot Law, PLLC, we are here to provide answers to your questions and help you take action to secure your and your family's future.  Contact us today at (831) 708-0298 or contact us online to schedule a confidential case evaluation.