When you walk around your neighborhood, you expect to be safe. Crosswalks, stop signs and traffic signals all help to protect you from vehicles in the roadway. Unfortunately, drivers sometimes ignore red lights or fail to stop at crosswalks. In these situations, pedestrians can be hit and may suffer serious injuries, and some may lose their lives due to a driver's negligence.
The personal injury attorneys at Lightfoot Law, PLLC provide tenacious legal representation to injured pedestrians and their families throughout District of Columbia in pursuing the compensation they deserve when they're the victims of accidents. Contact us online or call us at (831) 708-0298.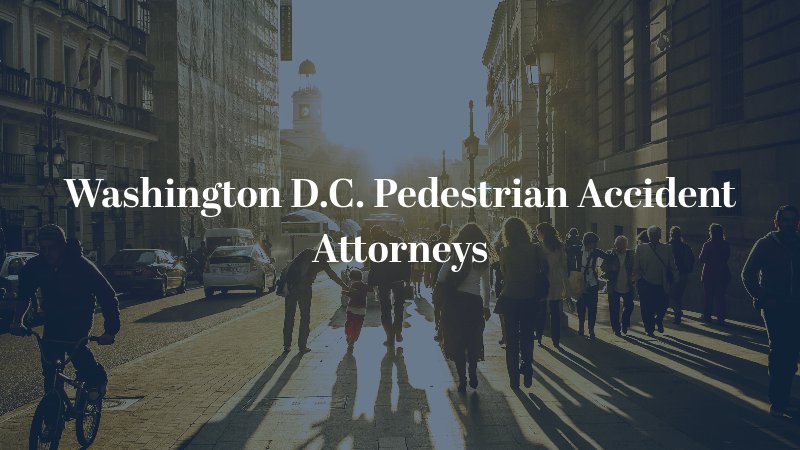 Common Pedestrian Accidents in Washington, D.C.
Pedestrians can be hurt anywhere that people walk. From driveways and parking lots to sidewalks and crosswalks, there is always a possibility of danger from drivers of cars, motorcycles, buses and trucks hitting those on foot.
Some of the most common reasons for these accidents include:
Distracted drivers — Drivers cannot pay full attention to the road when they are using a cellphone or any other electronic device. They may also be distracted by passengers, food or even the button on a car radio.
Fatigued drivers — Drowsy driving is nearly as dangerous as drunk driving and results in drivers who aren't fully focused on the road or the pedestrians in front of them.
Intoxicated drivers — The use of alcohol or other intoxicants by drivers frequently leads to serious or deadly accidents.
Negligence — Drivers often speed, disregard traffic laws or otherwise operate their vehicles recklessly. In these cases, they may be found to be negligent under the law.
Our firm will press to hold all drivers accountable for dangerous behavior and help victims of pedestrian accidents get the justice and compensation they deserve.
Typical Injuries Pedestrian Accidents Cause
Pedestrian accidents are one of the most dangerous types of accidents one can experience. The main reason is that pedestrians have no protection when hit by vehicles or bikes, which makes injuries and fatalities much more likely. The most common types of injuries include the following:
Head Injuries
Head injuries often result from pedestrian accidents. Due to the lack of protection, the impact of the collision can cause severe damage to the head, such as skull fractures, concussions, or even brain damage. Some head injuries may require extensive medical treatment and rehabilitation, and in severe cases, they can cause permanent damage or fatalities.
Spinal Cord Injuries
Similarly, spinal cord injuries are also quite common in pedestrian accidents. When struck by a car or other vehicle, the impact can cause the victim's spinal cord to twist or snap, leading to paralysis or other debilitating conditions. Unfortunately, many of these injuries are irreversible and can leave the victim with a lifetime of medical bills, an inability to work, and a diminished quality of life.
Broken Bones
Broken bones are also common in pedestrian accidents due to the force of impact when hit by a vehicle or bike. Depending on the severity of the break, it can range from a few weeks in a cast to requiring ongoing medical treatment or surgery. In some cases, broken bones may also cause long-term complications such as chronic pain, limited mobility, and even nerve damage.
Soft Tissue Injuries
Pedestrians also tend to suffer from soft tissue injuries such as cuts, bruises, and sprains when involved in an accident. These injuries can be minor or severe, but they often require medical attention to ensure safe and speedy recovery. Soft tissue injuries can also lead to other types of injuries such as infections or nerve damage if they are not properly treated.
Internal Injuries
While not always visible, internal injuries are another common injury that occurs in pedestrian accidents. When a pedestrian is struck by a vehicle or bike, the impact can cause damage to organs such as the liver, spleen, or lungs. These injuries may not be immediately apparent but can lead to severe complications if left untreated, such as internal bleeding, infection, or organ failure.
Where Do Most Pedestrian Accidents Occur?
Many factors contribute to pedestrian accidents, from driver negligence to inattentive pedestrians. However, certain areas are prone to accidents. Being aware of these high-risk areas can help you stay safe while walking, jogging, or cycling. Most pedestrian accidents occur in the following areas:
Intersections
Intersections are the most common location for pedestrian accidents. As cars rush through intersections, they often overlook or ignore people crossing on foot. Turn lanes and blind spots further compound the risk of accidents. 
Urban Areas
Busy urban areas are notorious for pedestrian accidents. Cities have more cars, buses, and trucks than other environments, leading to higher accident and fatality rates. These areas pose significant risks to pedestrians due to the high volume of traffic, poorly lit streets, and unprotected paths. 
Crosswalks Without Lights or Markings
Crosswalks are useful and necessary for pedestrian safety. However, without proper markings or traffic lights, pedestrians are at risk of being struck by cars passing through. In areas without traffic control, drivers can speed through crosswalks, striking unsuspecting pedestrians. 
Absence of Sidewalks
Pedestrians walking along roads without proper sidewalks are forced to walk in the street in the path of fast-moving traffic. Many accidents occur when drivers don't expect pedestrians on the road or when pedestrians are forced to walk around parked cars, foliage, and other obstacles.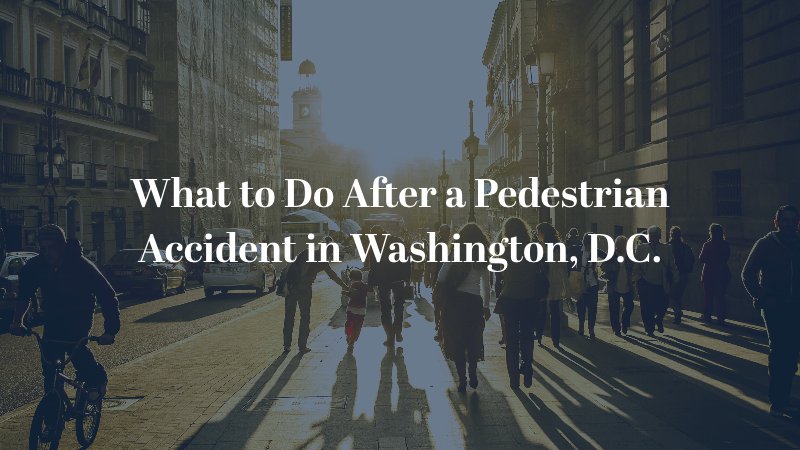 What to Do After a Pedestrian Accident in Washington, D.C.
Being involved in a pedestrian accident can be a traumatizing experience for all involved. If you find yourself in such a situation, it's important to know exactly what to do to ensure your safety and protect your rights.
Ensure your safety if possible: The first priority for anyone involved in a pedestrian accident is to ensure you are safe. If you are able, move yourself to a safe location to prevent further injuries. If you are unable to move, do your best to notify people around you and wait for medical attention.
Call 911 for emergency assistance: Even if the accident doesn't seem serious, it's essential to call 911 to report the incident. This will allow emergency responders to attend to any injuries or damages on the scene. The police will also document the incident, which is crucial for any future legal proceedings.
Gather information from the driver and witnesses: After an accident, it's important to gather as much information as possible from the involved parties and witnesses. Gather the driver's name, contact information, and license and insurance information. If possible, also gather the contact information of any witnesses who saw the accident take place.
Document the scene with photos and videos: This step is essential in building your case as it provides visual evidence of the accident. Take photos and videos of the damages to the vehicle, the accident scene, and any injuries sustained from the accident. 
Seek medical attention: Even if you do not feel hurt or injured immediately after an accident, it's important to seek medical attention as soon as possible. Some injuries may not manifest themselves until several hours later, so it's important to get a medical evaluation to ensure there are no serious underlying health concerns.
Understanding the Severity of Pedestrian Accident Injuries
Those injured in hit-and-runs and other pedestrian accidents may suffer a variety of serious injuries. Broken bones are common, as are injuries to the hands, feet, back and neck. Many pedestrians hit their head during accidents. The head may impact a vehicle, the road or other surfaces. Traumatic brain injuries come in many forms and can range from a minor concussion to serious and debilitating forms of brain damage. Some pedestrians who suffer head injuries lapse into a coma and may never recover. Pedestrians may also be killed when they're struck by vehicles. At Lightfoot Law, PLLC, our injury attorneys will seek justice for that loss by representing families in wrongful death lawsuits involving a pedestrian accident.
Who Can Be Held Responsible for My Washington, D.C. Pedestrian Accident?
There are many different parties that could be liable for a pedestrian accident. The most common include the following: 
Driver
If a driver was reckless or negligent, then they are responsible for the damages they caused. Drivers are expected to obey traffic laws, look out for pedestrians, and avoid distractions while driving. If a driver fails to meet these expectations, they can be held accountable for the accident. 
Driver's Employer
Employers have a legal responsibility to ensure their employees are properly trained and follow safety protocols. If a driver was working for a company or organization and caused an accident, the employer can be held liable for the damages caused.
Manufacturer of a Vehicle
Vehicle manufacturers have a responsibility to ensure their products are safe for the public to use. If a vehicle defect or malfunction caused the accident, the manufacturer can be held liable for the damages. 
City or Municipality Responsible For Road Maintenance
The local government has a responsibility to ensure their roads are properly maintained and safe for the public to use. If a road condition or construction defect caused the accident, the city or municipality can be held liable for the damages. 
How Do You Prove Fault in a Washington, D.C. Pedestrian Accident?
Proving fault in a Washington, D.C. pedestrian accident case involves proving four key elements: duty, breach of duty, causation, and damages. 
Duty refers to the obligation that the driver had to exercise reasonable care to prevent the accident. Breach of duty occurs when this obligation is not met, such as a driver failing to stop at a stop sign. Causation means linking the driver's actions to the accident. Finally, damages refer to the financial and physical harm suffered as a result of the accident.
What If My Family Member Died in a Pedestrian Accident in DC?
If you lose a loved one as the result of someone else's negligence, you may be able to file a wrongful death claim. Under Washington, D.C., law, a wrongful death is defined as "…a death caused by the wrongful act, neglect, or default of another person or corporation. The purpose of the claim is to allow family members to recover damages for their losses. 
What Damages Can You Recover After a Pedestrian Accident?
Depending on the jurisdiction, pedestrians may be able to recover their medical expenses from their own insurance company or the insurer of a family member or they may seek compensation from the driver who was at fault or that driver's insurer. In most states, victims who have suffered serious injuries are able to recover damages in a lawsuit. These damages usually cover the cost of medical expenses, lost wages and loss of earning capacity. Compensation for mental anguish and physical pain are often awarded in a lawsuit or agreed upon in a settlement. Some states also allow for punitive damages when the driver at fault was intoxicated. The experienced personal injury litigators at our firm will ensure you understand your rights under D.C. law and work tirelessly to get you full, fair compensation for the harm you've suffered.
Pedestrian Accident Statute of Limitations 
The statute of limitations for pedestrian accidents that do not cause a person's death is three years: "Except as otherwise specifically provided by law, actions for the following purposes may not be brought after the expiration of the period specified below from the time the right to maintain the action accrues: for the recovery of damages for an injury to real or personal property— 3 years."
If the pedestrian lost their life, the deadline is two years: "An action pursuant to this chapter shall be brought by and in the name of the personal representative of the deceased person, and within 2 years after the death of the person injured."
How Can I File a Claim?
Filing a pedestrian accident claim can help you recover financial compensation for your injuries and losses. Here's how you can do that:
Contact an Experienced Pedestrian Accident Attorney
One of the first things you need to do is to contact a personal injury attorney who has experience in pedestrian accident cases. An experienced attorney can guide you through the process and help you prepare the necessary documents. 
Collect Evidence
To strengthen your pedestrian accident claim, you will need evidence. This can include witness statements, police reports, photos of the scene, and medical records. Your attorney can help you gather and organize all the important pieces of evidence to build a strong case.
File a Claim with Insurance Companies
Your attorney will help you file the pedestrian accident claim with the relevant insurance companies. The insurance company will investigate the accident, review the claim, and make a decision on whether to pay for your damages.
Negotiation and Settlement
If the insurance company accepts your claim, your attorney will negotiate with them on your behalf. They will work to ensure you receive full and fair compensation for your injuries and losses. If a settlement can't be reached, your lawyer can file a lawsuit.
Contact Our Washington, D.C. Pedestrian Accident Attorneys
At Lightfoot Law, PLLC, we provide relentless representation to injured pedestrians and victims of hit-and-run accidents. If you or a loved one has sustained injuries due to the negligence of a driver, we will seek the full compensation you deserve. Call us at (831) 708-0298 or contact us online to schedule a free consultation at our Washington office.