If you have suffered an injury from a bicycle accident, Lightfoot Law is here to help. When you work with us, you will speak directly with a lawyer who will take the time to understand your circumstances and what matters most to you. Our personalized approach ensures that your case is handled with care and attention to detail.
Lightfoot Law has the resources of a large firm but provides the personalized attention of a smaller one. We go up against even the largest corporations and insurance companies and represent you aggressively to ensure you get what you're entitled to.
So, if you're looking for a law firm to support you through a difficult time, you've come to the right place. Contact Lightfoot Law today to schedule a consultation and learn more about how we can help.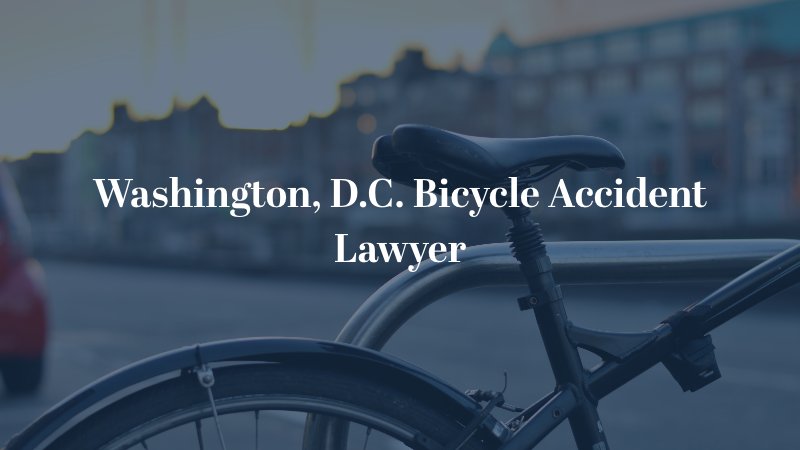 Causes of Bike Accidents in Washington, D.C.
Biking in Washington, D.C. can be a great way to get out and enjoy the city, but it's important to remember that there are risks involved. Common causes of bike accidents in D.C. include:
Driver Negligence
One of the leading causes of bike accidents in D.C. is driver negligence. When drivers are distracted, intoxicated, or otherwise not following the rules of the road, they can put cyclists in serious danger, resulting in devastating accidents and injuries. It's important to keep an eye out for careless drivers so that you can stay safe while biking around the city.
Poor Road Conditions
Poor road conditions can be another major cause of bike accidents in D.C. When roads are not kept up to safety standards, cyclists can end up in dangerous situations – especially in wet or icy weather. 
Bike Malfunctions
Bike defects can also lead to serious accidents. If any part of your bike malfunctioned or was defective, you may be eligible for compensation from the manufacturer or the bike shop that sold it to you. 
Common Injuries Associated With Bicycle Accidents
If you're dealing with the aftermath of a bicycle accident, it's important to understand what kind of injuries you may be facing.
Head Injuries
Head injuries caused by bike accidents can vary from mild concussions to more severe traumatic brain injuries (TBIs). A concussion is a type of head trauma that happens when your brain experiences a quick jolt or shake inside your skull. The symptoms of head trauma can include headaches, nausea, dizziness, trouble with memory and confusion. More serious TBIs can leave you with long-term cognitive, behavioral, and physical issues which might require intensive rehabilitation. 
Broken Bones
Broken bones are a common injury associated with cycling accidents. On top of dealing with the pain and discomfort of the broken bone, you may also need surgery and/or physical therapy to get your strength and mobility back
Road Rash
Road rash is a type of skin trauma caused by friction when your body comes into contact with the ground during a bike accident. Depending on severity, road rash can result in minor scrapes and scars or deep lacerations that require skin grafts and other treatments to heal properly.
Internal Injuries
Bicycle accidents can sometimes cause internal injuries. These are serious and can include organ damage, internal bleeding, and other issues. Even if you don't immediately notice symptoms after a bike accident, you should still seek medical care to make sure you don't have any internal injuries. 
Psychological Injuries
Bike accidents can have psychological repercussions as well, such as anxiety, depression, and PTSD. These mental and emotional injuries can be just as serious, if not more so, than physical ones, and they can have long-term effects on an individual's life.
What To Do After a Bicycle Accident in D.C.
If you were in a bicycle accident in Washington, D.C., it's important to know what to do. Taking these steps may help increase your chances of getting the compensation you deserve:
Call 911:

It's important to contact the authorities immediately following a bicycle accident in Washington, D.C. Calling 911 will not only ensure you receive necessary medical attention but also create an official police report that can be used as evidence in insurance claims or court proceedings and provide valuable insight into the circumstances of the accident.

Take Photos:

Documenting your injuries and the scene of the accident is important when it comes to receiving compensation from a bicycle accident. Taking photos of both can be instrumental in determining who was at fault for the accident and assessing the extent of your injuries.

Seek Medical Attention:

Getting medical attention promptly after a bicycle accident is critical for diagnosing and treating injuries, documenting them for insurance claims, and protecting your legal rights. A doctor's examination and record of your injuries will support your claim for compensation and ensure that you receive the necessary medical attention to make a full recovery.

Obtain Witness Contact Info:

Getting the contact information of any witnesses present during the bicycle accident is crucial. Their testimony can serve as valuable evidence in determining the cause of the accident and establishing fault.

Contact a Lawyer:

While you aren't required to have a lawyer for your accident claim, it's always a good idea to consult with a professional. They will ensure that you don't miss any important deadlines or forget to file the correct paperwork. They can let you know what your options are and what you should expect going forward.
How Is An Attorney Helpful For My Bicycle Accident Case?
Hiring a lawyer after a bicycle accident is important for several reasons:
Legal expertise: A lawyer can help you understand your rights and options after a bicycle accident. They have a deep understanding of the laws that apply to your case and can help you determine what you're entitled to and what steps to take.
Negotiating with insurance companies: Insurance companies often try to minimize the amount of compensation you receive after a bicycle accident. A lawyer can help you negotiate with the insurance company to ensure that you receive the full compensation you're entitled to.
Representing you in court: If your case goes to court, a lawyer can represent you at trial. They can help you present your case in the most effective way possible and increase your chances of getting the outcome you deserve.
What Is The Statute Of Limitations on Filing a Bicycle Accident Claim?
A statute of limitations is the legal period in which individuals can file a claim after being involved in a bicycle accident. Generally, this time frame is three years from the date of the incident. After this deadline has elapsed, the right to any potential claims is lost.
It's essential to understand that there are exceptions to this general three-year rule, so consulting with a lawyer right away is important. Depending on the circumstances, the statute of limitations may be longer or shorter.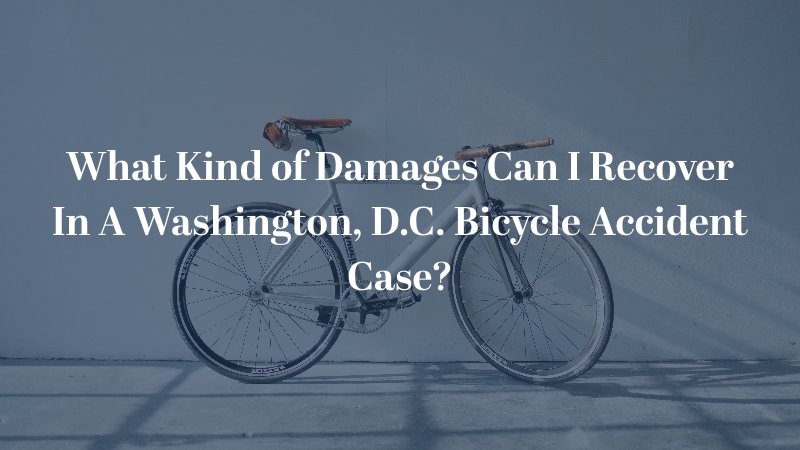 What Types of Damages Can I Recover in a Washington, D.C. Bicycle Accident Case?
Damages are compensation that can be awarded to individuals following a bicycle accident, with the goal of making them whole again to the greatest extent possible. Various types of damages may be recoverable a claim, including the following: 
Medical expenses (for hospital visits, surgeries, and rehab)

Lost income (wages and benefits missed due to injury-related absences, as well as bonuses and commissions the victim missed out on)

Pain and suffering

Property damage

Punitive damages which

punish the defendant's disregard

for safety and serves as a deterrent against similar behavior in future
Factors That Influence The Value of a Bicycle Accident Claim
All bicycle accident claims are different, but understanding some of the most common factors that influence the value of a claim will help you know what to expect. 
Extent of Injuries and Medical Expenses 
The most important factor in determining the value of a claim is the extent of your injuries and resulting medical expenses. These expenses can include hospital bills, physical therapy costs, medications, and other related costs. 
The more severe your injury and associated expenses, the greater your potential settlement or verdict will be. If your injury has caused long-term or permanent disability, you may be eligible for additional compensation as well. 
Amount of Time Out of Work 
In addition to direct medical expenses, you also may be entitled to compensation for lost wages if you were unable to work due to your injury or had to take a lower paying job because of it. The amount paid will depend on how much time was lost from work due to treatment for injuries or any necessary recovery period following an accident.                                                                           
Insurance Policy of At-Fault Party
Another factor that influences a bicycle accident settlement is the insurance policy held by the at-fault party. What they're willing to pay out will depend on the coverage limits. If those limits don't cover your losses, you may have to take them to court. 
Your Level of Negligence
Whether you were at fault for the accident – even in part – will determine how much you're entitled to. In Washington D.C., bicyclists can recover compensation even if they're partially at fault – as long as their percentage of responsibility is less than 50%. However, your level of fault will reduce the amount of compensation you're able to recover. 
How Are Pain and Suffering Damages Calculated?
Calculating pain and suffering damages is not always an easy or straightforward process, but it's an important step, as it can yield significant compensation in some cases. 
One of the most common ways of calculating pain and suffering damages after a bicycle accident is called the multiplier method. With this method, your economic damages—which include medical bills, lost wages, etc.—are multiplied by a number between 1 and 5 depending on the severity of your injuries. 
The greater the severity of your injury, the higher the multiplier number should be. For mild injuries that do not require long-term treatment or lifestyle changes, a number closer to 1 would be appropriate, while more severe injuries may warrant a multiplier number of 3 or 4 (with 5 typically being reserved for cases involving debilitating and permanent injuries).  
This number would then be the amount of pain and suffering damages awarded to you. The multiplier method is just one way to estimate pain and suffering damages; it isn't absolute law.  
Additionally, if there were any aggravating circumstances surrounding your accident and the defendant's behavior was particularly egregious, you may be able to increase your award amount through punitive damages. Punitive damages are meant to punish the defendant and deter them and others from engaging in similar types of behavior in the future. 
Tips for Maximizing Your Award Amount 
When it comes time to calculate your award amount for pain and suffering due to a D.C. bicycle accident, the following are some tips to try to maximize how much you receive: 
Make sure all medical records related to your injury are up to date so that they accurately reflect its severity. 

Be prepared with evidence showing how much time off work you had to take due to your injury. 

Keep track of all other expenses related to treating or managing your injury (such as transportation costs or childcare cost due to the injury).

Document any long-term effects or lifestyle changes resulting from your injury (like decreased mobility or reduced quality of life).

Hire an experienced Washington, D.C. personal injury lawyer who can help ensure that all factors are taken into consideration to negotiate an appropriate settlement.
How Do Juries Influence My Settlement?
The process of a jury trial begins with the selection of a panel of jurors from within the local community. 
After the jury is chosen, the trial begins. To help inform the decision-making process, both the plaintiff and defense present evidence in various forms, such as witness accounts, physical evidence, and expert testimony. 
The jury is responsible for making a decision on the outcome of the case once all evidence has been presented. To do this, the judge will provide instructions based on legal principles that must be considered, guiding the jury on how to weigh and interpret the evidence before them. When it comes time to render a verdict, the jury will determine if fault lies with the defendant and what amount should be issued for compensation to the plaintiff.
Contact Our Washington, D.C. Bicycle Accident Lawyers Today
If you or someone you love has been injured in a bicycle accident, contact the Washington, D.C. bicycle accident lawyers at Lightfoot Law today to schedule a free consultation. Our team of experienced lawyers is here to make sure that you receive the justice you deserve.