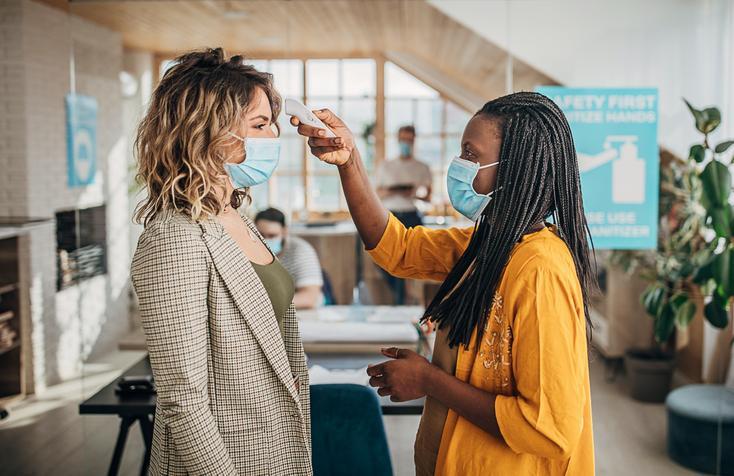 The COVID-19 pandemic has wrought havoc across the United States and the rest of the world. In the U.S. alone, a surge at the end of 2020 has added tens of thousands of cases per day to the more than 12.5 million already confirmed. The coronavirus can be spread by physical contact and also by airborne particles exhaled by people infected. Unfortunately, essential workers and others who are in frequent contact with the public are at a much higher risk of getting the disease.
There are any number of ways in which you could be exposed to the virus at work: through customers, vendors, deliverymen, co-employees or food service providers. Surfaces that are not thoroughly sanitized can also transmit the disease. If you test positive for coronavirus and you suspect you were exposed at work, you may be entitled to receive workers' compensation to help pay for your medical treatments and to make up for lost pay during the time you are unable to work.
Traditionally, viral illnesses like influenza are not recognized as compensable injuries. Since they can be easily spread through societal interaction, it would be difficult to prove that they were work-related.
Now, some states recognize that workers, such as police and firefighters, come into close contact with members of the public by the very nature of their jobs. The same is true for medical workers, mass transit operators, grocery store clerks and other workers deemed "essential." In some states, essential workers who come down with coronavirus are presumed to have been infected at work. In such cases, the burden of proof will shift to the employer or workers' compensation insurance carrier to prove that the virus was not work-related.
Earlier this year, the federal government issued guidelines stating that workers' comp benefits can be paid to workers who come in close contact with the public. Therefore, essential workers in Washington, D.C. can sustain workers' compensation claims if they become ill from coronavirus.
Maryland has not adopted such an interpretation of its workers' compensation laws. However, while it may be difficult to prove your illness was work-related, you should still file and attempt to document a claim if you believe you were exposed while on the job.
Whether or not you are an essential worker, you should immediately report a suspected coronavirus exposure to your employer in writing. Notifying the employer starts the workers' compensation claim process. Compiling detailed information is necessary to support the claim. Be as detailed as possible about who you think exposed you to the virus, the manner in which you were exposed and other people who may have witnessed the exposure and/or were exposed as well.
Located in the District of Columbia, Lightfoot Law, PLLC handles workers' compensation claims in Maryland and the Washington, D. C. area. To schedule a free initial consultation with one of our experienced attorneys, call us at 831-708-0298 or contact us online.