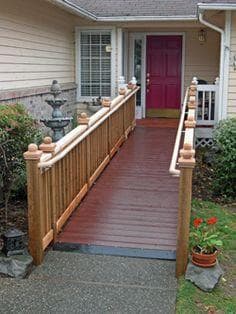 Quick Summary: A worker, entitled to D.C. workers' compensation benefits, has the freedom to choose the contractor who will construct modifications to the home.
In 2006, David Young was tragically injured in a work-related automobile accident leaving him a quadriplegic.  His disability claim against his private-sector employer was approved and he was awarded workers compensation for his medical necessities. In 2016, Mr. Young's physician recommended a rehabilitative machine that would enable safe mobilization of bed-ridden patients in order to counteract the negative effects of their immobility.  In order to be used properly, the installation of the rehabilitative machine which required a modification to Mr. Young's home by a contractor.  The employer agreed to pay for the modifications but refused to pay for the contractor selected by Mr. Young.  The employer instead chose its own contractor which Mr. Young rejected.
In resolving the dispute, the District of Columbia Court of Appeals held that an employee who suffers a non-fatal work-related injury and is in need of modifications to his home for basic necessities resulting from his work-related injury may be able to choose the contractor of his choice because the workmanship of the contractor goes to character and sufficiency of the home modification.
Under the District of Columbia Workers' Compensation Act of 1979,  the employer shall furnish such medical, surgical, vocational rehabilitation services for as long as the nature of the injury or the process of recovery may require, if the employee was injured while performing work for the employer. Further, The Mayor of the District of Columbia shall have the authority to determine the necessity, character, and sufficiency of any medical aid furnished or to be furnished.  The Mayor has delegated the authority to determine the necessity, character, and sufficiency of any medical aid to the Department of Employment Services and on appeal to the Compensation Review Board.
Mr. Young's contractor selection goes to the character and sufficiency of a medical aid because in this context, character refers to the combination of features that distinguish one thing from another, while sufficiency describes what would be adequate to fulfilling the needs or requirements of a situation. How the contractor would carry out the plans, whether the contractor is capable, whether the contractor would do so adequately so as to fulfill the Mr. Young's legitimate needs and requirements are integral to both the character and sufficiency of the home modification.
Non-fatal work-related injuries can be severe and require major home modifications such as ramps, widened doorways, handicapped-accessible plumbing fixtures, and more.  If you have a severe work-related injury and are in need of home modifications for your basic needs, you may be entitled to home modifications by a contractor of your choosing. At Lightfoot Law, PLLC, we are dedicated to get you the justice that you deserve. Contact us for a free consultation at (831) 708-0298 or info@maylightfootlaw.com